Concrete Patios from Multiprint Driveways
When you live in the beautiful area of Kent, patios are as essential as the barbeque and the deckchair! As a local business, Multiprint Driveways has been working out of Bexley since 1990. We understand that our gardens are more than just a place outside – these are our kingdoms!
A great patio can enhance the image of your garden and add value to your home. So, when selecting the company to install your new patio, you need experts who understand how to facilitate your bespoke design.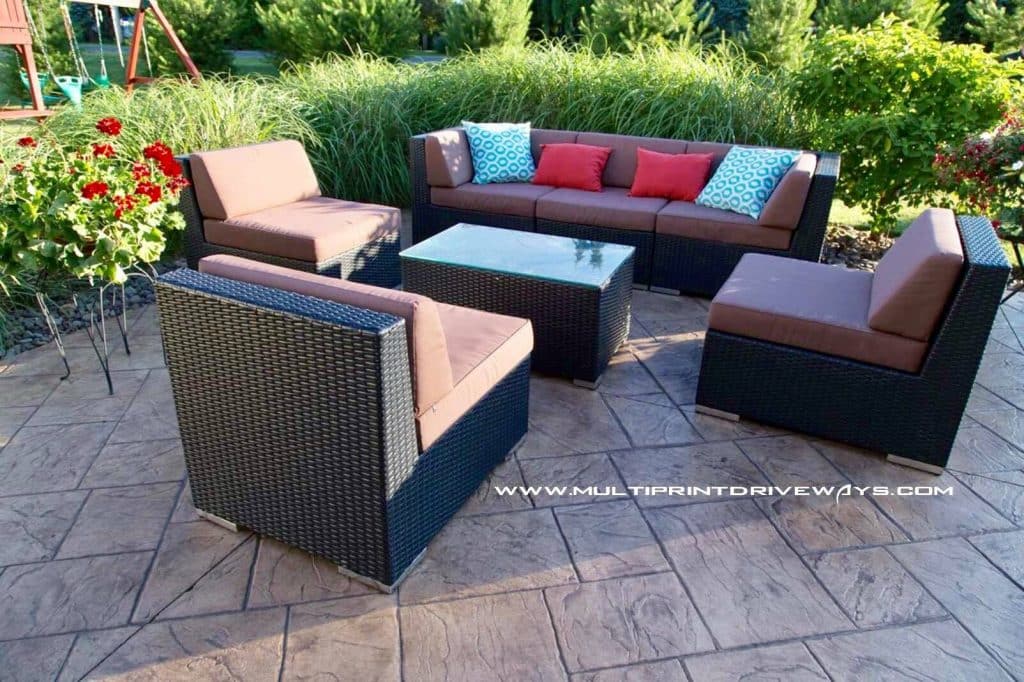 What is an Imprinted Concrete Driveway?
An imprinted concrete driveway is achieved by imprinting the surface of freshly-poured concrete. This provides a visual effect to make the concrete appear like stone, brick, cobbles, slate or even timber! The difference between block paving and concrete imprints is almost impossible to recognise.
Concrete is a maintainable building material that has very little impact on our environment, especially when compared to other building materials. Cement, sand, aggregates and water are the main components of concrete. We add colour and texture to make the material more aesthetically pleasing.
Your Personal Design Comes to Life
The first step to your perfect patio is to meet with one of our expert surveyors. No garden is the same and each house has its own character. Our surveyor will offer you patio ideas; including different stone imprints and different finishes. Together with your surveyor, you will create your bespoke design that will enhance the beauty of your home and land.
Before offering a quotation, our surveyor will carefully measure and map out the area for the patio. They will then apply your design choices; whether it is random stones, cobblestones, a brick border or multiple other selections.
Multiprint Driveways Guaranteed Quality
We are certain of the quality we provide because we only ever use our expert technicians on your patio. We do not work with contractors. This means your technicians will come with the expertise to lay a concrete patio that lasts long in to the future. We are so certain of the quality of our product, we offer you a five-year guarantee to back it up!
Contact us today to book your surveyor's appointment or request our brochure now!